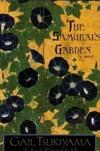 The Samurai's Garden
Registered by
Mankyi
of
Zürich
,
Zürich
Switzerland on 1/30/2019
3 journalers for this copy...
A 20-year-old Chinese painter named Stephen is sent to his family's summer home in a Japanese coastal village to recover from a bout with tuberculosis. Here he is cared for by Matsu, a reticent housekeeper and a master gardener. Over the course of a remarkable year, Stephen learns Matsu's secret and gains not only physical strength, but also profound spiritual insight. Matsu is a samurai of the soul, a man devoted to doing good and finding beauty in a cruel and arbitrary world, and Stephen is a noble student, learning to appreciate Matsu's generous and nurturing way of life and to love Matsu's soul-mate, gentle Sachi, a woman afflicted with leprosy.
---
The book is on its way to the "Mail the Garden" winner. Bon voyage!:)

If you aren't familiar with Bookcrossing, take a few minutes to check out this very cool site. Bookcrossers LOVE books, and more than anything, they love to read books and then set them free for other people to find and enjoy. I would love it if you would leave a journal entry -- you can say where you found the book or how you liked it when you read it.
---
Journal Entry
3
by
lauraloo29
at
Edmonton, Alberta Canada on Friday, March 01, 2019
Arrived today. Thank you!
---
Journal Entry
4
by
lauraloo29
at
Edmonton, Alberta Canada on Monday, August 31, 2020
Sending to the winner of the Mail a Garden Sweeps. Congratulations!
---
Journal Entry
5
by
Delphi_Reader
at
Δελφοί - Delphi, Fokida Greece on Wednesday, September 23, 2020
---
Journal Entry
6
by
Delphi_Reader
at
Δελφοί - Delphi, Fokida Greece on Monday, October 12, 2020

The Samurai's Garden was interesting but to be honest, at first I couldn't connect very much with the characters or the way the story unfolded. I found them stereotypical and simultaneously contrived. In reality the stars of the book are Matchu and Sachi, his special friend from the past, rather than Stephen, the narrator.
I don't want to write spoilers here, but Stephen, a young Chinese man from Hong Kong spends a year on a tiny Japanese resort town in 1938/1939 and bonds with Matchu, the old Japanese caretaker of his grandfather's house and with other locals. This amidst a war between Japan and China, fact that doesn't seem to affect greatly the life of the characters on most part of the book and this wasn't very convincing. The author tried to create these bonds among Stephen and the Japanese people through forced behaviors and farfetched incidences too.
As the story proceeds and secrets of the past are reveiled, the book started to grow on me, although I kept thinking something on the narration and writting was off. The book gets very emotional and moving towards the end although the final pages left something to be desired.
I liked the book but I didn't love it. Maybe it's my own cynicism to blame or simply the very different mentallities and culture of the Far East people, but while it was well-written, I kept thinking developments felt surreal and unconvincing. Thus I didn't enjoy it as much as I thought I would...
---