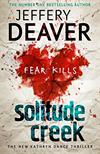 Solitude Creek: Fear Kills
Registered by
Delphi_Reader
of
Δελφοί - Delphi
,
Fokida
Greece on 9/8/2020
1 journaler for this copy...
Journal Entry
1
by
Delphi_Reader
from
Δελφοί - Delphi
,
Fokida
Greece on Tuesday, September 08, 2020

This book starts its journey with BookCrossing from Delphi, Greece
~~~~~~~~~~~~~~~~~~~~~~~~~~~~~~~~~~~~~~~~~~~~~~~~~~
Synopsis:
" A tragedy occurs at a small concert venue on the Monterey Peninsula. Cries of "fire" are raised and, panicked, people run for the doors, only to find them blocked. A half dozen people die and others are seriously injured. But it's the panic and the stampede that killed them; there was no fire.
Kathryn Dance--a brilliant California Bureau of Investigation agent and body language expert--discovers that the stampede was caused intentionally and that the perpetrator, a man obsessed with turning people's own fears and greed into weapons, has more attacks planned. She and her team must race against the clock to find where he will strike next before more innocents die. "
~~~~~~To the person who found this book:~~~~~~
Welcome to BookCrossing.com, where we are trying to make the whole world a library!
If you have not already done so, please make a journal entry so we know this book has found a new home. Drop a few lines on where and how you found this book and what you thought of it. You don't need to join BookCrossing and you can remain completely anonymous. However, I encourage you to join so that you can follow this book's future travels. It's fun and free, and your personal information will never be shared or sold.
This book is now yours, and you can keep it if you choose, although I would love you to read and then share it. You can pass it on someone you know or release it once again in the wild, leaving it on a park bench, a phone booth, a hostel lobby...wherever you think it's suitable for the book to continue it's journey. If you pass it along, please make a release note to let others know where you left it.
I hope you enjoy the book!
---