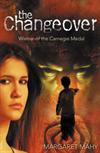 The Changeover
Registered by
tigergirlnz
of
Napier
,
Hawkes Bay-Poverty Bay
New Zealand on 1/31/2020
3 journalers for this copy...
Journal Entry
1
by
tigergirlnz
from
Napier
,
Hawkes Bay-Poverty Bay
New Zealand on Friday, January 31, 2020
'The hair was hers and the eyes were hers...
However, for all that, the face was not her face for it knew something that she did not.'
It was a warning. Laura knew, when she looked in the mirror that morning. There had been others: the day her father left home, the day she met Sorenson, the boy with the strange silver eyes.
But nothing has prepared her for today's terrible danger. Why hadn't she snatched Jacko's hand away in time? The hideous mark stamped on it meant that her little brother would sicken and die. And there was nothing anybody could do to help him.
Unless she changed over. Unless she and Sorenson joined together to use their supernatural powers...

FINDER OF THIS BOOK:
This book, as well as Margaret Mahy's 'The Tricksters' is one of my favourite books of all time. I've loved it ever since I read it at the age of 13, and I continue to love it today. If you look around, you might find a movie with the same name that was based upon it, set after the devastating earthquake that hit Christchurch New Zealand. This book was written in a time well before that...

Please post your comments/journal here (you can do it anonymously, or, join up, this is fun!) and let me know where you found this book. Then read it, journal your thoughts, and please re-release it for others to find. www.bookcrossing.com will give you all the help you need to help this book travel around the world.
Thanks for finding this book and keep it moving!

---
Journal Entry
2
by
tigergirlnz
at
Kamena Vourla - Καμένα Βούρλα, Fthiotida Greece on Friday, January 31, 2020
Released 11 mos ago (2/8/2020 UTC) at Kamena Vourla - Καμένα Βούρλα, Fthiotida Greece
CONTROLLED RELEASE NOTES:
Winging its way to the winner of the Amazing Supernatural Sweep Round 16 - enjoy :D
---
Journal Entry
3
by
Delphi_Reader
at
Δελφοί - Delphi, Fokida Greece on Wednesday, February 12, 2020

Thank you very much tigergirlnz! Your beautiful note and this book arrived safely in Delphi, Greece today!
The book/author is new to me and been your favorite book makes it even more special!
---
Journal Entry
4
by
Delphi_Reader
at
Δελφοί - Delphi, Fokida Greece on Thursday, June 04, 2020

I was very curious about this book/author. I enjoyed it and it wasn't bad, but I somehow had greater expectations too. I had to write a few spoilers below to explain some points that I found irking, so be aware...
Mainly it's a story of growing up and of getting to a better understanding with one's teenage self, family and other people, featuring some fantasy element too. I found some scenes somehow confusing, the characters a bit stereotypical and shallow and their behavior sometimes really weird. Often the characters talked and reacted in a way that didn't make much sense to me. Maybe this is due to cultural differences, but I didn't connect with any of the characters.
Furthermore, there are a couple of incidents touching on sexual harassment that I felt the author didn't stretch enough how wrong they were
SPOILER [ Sorry (what kind of name, even a nick-name is this?) was really weird and creepy. I found really wrong the way Margaret Mahy gets Laura attracted to him, after she had discovered that he was kind of a stacker and an asshole. What kind of message is this for young readers? Maybe someone takes secretly your photograph and sticks it on a nude portrait on his bedroom, he suddenly grabs your tit just because, he keeps making creepy sexist remarks, but after a while you fall in love with this lovely (Not!) character and there are even hints of marriage sometime in the future? ]
The fantasy element of the story was very simplistic and didn't make much sense to me.
SPOILER [ Hey, you teenage girl, you are clueless about these things but you have premonitions and have potential, let's make a ritual and hey, pesto! Now you are a witch. And you may somehow brand and destroy an ancient evil spirit who has survived for ages sucking life out of people and you can do it without much tuition whatsoever. And if you wear sunglasses he won't get it that you are a witch now!
And what about Sorry been a boy and a witch because his mother and grandmother were some kind of moon witches, so he has female magic elements, so he is a witch. It makes absolutely sense without delve much on it, just because the author says so, no? ]
All that said, I liked most of the main themes running on this book. Not exactly original, but important non the less. Love between simblings, getting to know your self and others, parents and children and their new loved ones getting a better understanding among each other and so on
SPOILER [I liked that an '80s teen book mentions that sex can serve as a great tranquilizer when one is under stress too, but I think the author did it on a clumpsy way. Your 3 years old son might die any moment and you leave him alone in the hospital to spend the night with a guy you met 2 days ago? That's a bit over the top, isn't it? ]
The pace of this book was very decent, the premise interesting up to an extend, the prose easy and while the book could be better, it wasn't bad at all. I enjoyed it and liked it, but didn't love it so much as you tigergirlnz. It might had make a greater impact if I first read it when I was younger? I don't know.
Thank you very much for sharing this with me!
---
Journal Entry
5
by
Delphi_Reader
at
to an OBCZ, A RABCK -- Controlled Releases on Thursday, December 03, 2020
Released 1 mo ago (12/4/2020 UTC) at to an OBCZ, A RABCK -- Controlled Releases
CONTROLLED RELEASE NOTES:
---
Arrived safely with lots of others in Helsinki today. Thanks for sending them all the way here. This book will be read first, before it continues its travels...
---
I loved the book. It fits with the time it was written, love the hints towards fairy tales and Disney films (and other films) and the growing up story of the main character.
I love books with witches, so that has an extra plus spot in my way of reading it.
Now wondering if there ever was a continuation to the story, but think the writer left it wisely away as those tend to be less quality than the first one.
---