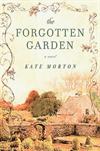 The Forgotten Garden
Registered by
ILuvToRead2
of
Chicago
,
Illinois
USA on 9/2/2020
This book is in a Controlled Release!
2 journalers for this copy...
Journal Entry
1
by
ILuvToRead2
from
Chicago
,
Illinois
USA on Wednesday, September 02, 2020
amazon review:

From the #1 internationally bestselling author of The House at Riverton, a novel that takes the reader on an unforgettable journey through generations and across continents as two women try to uncover their family's secret past
A tiny girl is abandoned on a ship headed for Australia in 1913. She arrives completely alone with nothing but a small suitcase containing a few clothes and a single book—a beautiful volume of fairy tales. She is taken in by the dockmaster and his wife and raised as their own. On her twenty-fi rst birthday, they tell her the truth, and with her sense of self shattered and very little to go on, "Nell" sets out to trace her real identity. Her quest leads her to Blackhurst Manor on the Cornish coast and the secrets of the doomed Mountrachet family. But it is not until her granddaughter, Cassandra, takes up the search after Nell's death that all the pieces of the puzzle are assembled. A spellbinding tale of mystery and self-discovery, The Forgotten Garden will take hold of your imagination and never let go.
---
Journal Entry
2
by
ILuvToRead2
at
-- Mailed, -- By post or by hand/ in person -- USA on Wednesday, September 02, 2020
Released 4 mos ago (9/1/2020 UTC) at -- Mailed, -- By post or by hand/ in person -- USA
CONTROLLED RELEASE NOTES:
Mailed to the winner of the Mail a Garden Sweepstakes. Enjoy!
---
Journal Entry
3
by
Delphi_Reader
at
Δελφοί - Delphi, Fokida Greece on Saturday, October 10, 2020

Thank you very much ILuvToRead2 for the nice envelope and postcard featuring pansies, the nice garden-y/flower-y stickers, a card which you can plant and get wildflowers, a spare flower-y booklabel and this interesting book which finally arrived yesterday through Better World Books!
I've seen The Forgotten Garden and Kate Morton mentioned around, but I think I've never read anything from this author. I'm intrigued!
---
Journal Entry
4
by
Delphi_Reader
at
Δελφοί - Delphi, Fokida Greece on Monday, October 26, 2020

This is a well-crafted and generally speaking a well-written novel.
I admit that all this back and forth in time and among different people needs some geting used to, while I found many of the characters too stereotypical and two-dimensional. Especially the male characters never really fleshed-out, while others are used as a way for the author to move the plot or to explain the mentallity and development of the female characters, whose actions often didn't make much sense to me. Some threads of the story are never explored properly while others lead to very obvious developments and explanations. I found the plot interesting, but I felt that somewhere around the middle of the book there was too much beating around the bush.
I'm trying not to write spoilers here, but my main complaint is that a key point for the book is a special bond that got created between two persons and the gradual falling-appart of them, although the author didn't describe how this bond grew and I cound't see where or how it came from. This was a crucial element in the story, but very unconvincing. An other complaint is that the forgotten garden of the book's title didn't come up till very late in the story and there isn't even a decent description of it. ( Fun fact, Frances Hodgson Burnett, author of The Secret Garden, makes a quick appearance as a guest invited in a garden party in the estate and shows interest on the...secret garden...)
Last but not least, my pernament huge complaint with authors is that they often want to offer the sense of a circle coming to an end, to claim that everyone is somehow tied with everyone else, to offer the sense of an entity or create all kind of symbolisms and connotations. But in order to do so, said authors don't hesitate to use all kind of farfetched elements, coincidences, impossibilities in their stories. Kate Morton is not an exception in this rule. If you read The Forgotten Garden you'll know what I mean.
I liked the prose of the book, in general I liked the story and the fairy-tales introduced within the narration, but at some point I started to find the characters too cliche and indifferent and the plot too slow-going. Towards the end of the book, the developments gained my attention again and I found parts of the story very moving. I was expecting some more dramatic or specific description about what happened to some of the persons of the story, especially as there were some hints earlier in the book that never materialised, but the author chose to focus on the most central characters of the story. Maybe rightly so...
All in all, this is an epic novel which isn't flawless but definitely worths a read. I enjoyed reading it albeit it's irking points!
---
Journal Entry
5
by
Delphi_Reader
at
by Post, A RABCK -- Controlled Releases on Thursday, January 14, 2021
Released 2 days ago (1/14/2021 10:00 AM UTC) at by Post, A RABCK -- Controlled Releases
CONTROLLED RELEASE NOTES:

The Forgotten Garden got itchy feet and is now travelling to Portugal through the First Sentences Virtual BookBox - Round 19!
And then... Who knows?
Good Luck little book and Don't forget to write your news from time to time!
First Sentence:
It was dark where she was crouched but the little girl did as she'd been told.
---