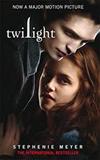 twilight
Registered by
Joanazinha
of
Amersfoort
,
Utrecht
Netherlands on 3/3/2021
This Book is Currently in the Wild!
1 journaler for this copy...
Journal Entry
1
by
Joanazinha
from
Amersfoort
,
Utrecht
Netherlands on Wednesday, March 03, 2021
Bella Swan is a seventeen-year-old introvert girl who moved from Phoenix, Arizona to Forks, Washington on the Olympic Peninsula to live with her father, Charlie Swan, the town's police chief. Her mother, Renée Dwyer, is traveling with her new husband, Phil Dwyer, a minor league baseball player. Bella is admitted to Forks High School, where she easily gets to be friends with a group of friends. A somewhat inexperienced and shy girl, Bella is dismayed by several boys competing for her attention.

On the first day of her school, Edward Cullen, a mysterious and beautiful boy stares at Bella, frustrated. Bella sits next to Edward in biology class, but he seems to be utterly repulsed by her, much to her bewilderment. He disappears for a few days but when he returns, he is unexpectedly friendly to Bella. Their newfound relationship is interrupted after Bella is nearly struck by a van in the school parking lot. Edward saves Bella, narrowly stopping the van with his bare hands. Bella questions Edward about how he saved her life but he refuses to tell anything.

During a campout, she meets Jacob Black, a local boy from the Quileute tribe. She learns from him that Edward and his family are actually vampires who consume only animal blood. Disturbed and riddled by recurring nightmares, Bella researches about vampires. She compares the characteristics of the vampires in mythology to the Cullens. Convinced that he is a vampire, she finds herself in a state of enigma. Bella is saved by Edward again in Port Angeles when she is almost attacked by a group of men. Furious, Edward drives Bella away and takes her to a restaurant for dinner and then back home. On the way, she tells him of the stories that he is a vampire. Seeing that there's no point denying, he agrees to it. He confesses that Bella's blood is more desirable to him than to any other vampire. He wanted to kill her on the first day of school. He tried to stay away so that he couldn't hurt her. Over time, Edward and Bella fall in love.

Their relationship is affected when a nomad vampire coven arrives in Forks. James, a tracker vampire, who is intrigued by Cullen's relationship with a human, wants to hunt Bella for sport. Bella and Edward are forced to separate as Bella escapes with Alice and Jasper (Edward's brother and sister), to hide in a hotel in Phoenix.

James calls Bella and claims to be holding her mother hostage. Bella sneaks out and hurries to save her mother. When she arrives at the place, she finds that the hostage claim was a ruse. James attacks her, but before he can kill her, she is rescued by Edward and the other Cullens who kill James. However, James has already bitten Bella. Edward prevents her from becoming a vampire by sucking the venom out of her wound, and she is treated at a hospital, using the story that she fell out of a window as an excuse.

After they return to Forks, Edward takes her to the school prom, as Edward did not want Bella to miss any normal human experience because of him. Bella says that she wants to become like him, a vampire, but Edward reiterates he is against this.

Bella's desire to become a vampire increases throughout the series. Edward continues to refuse to turn her, as he thinks being a vampire is being a monster, and does not want Bella to suffer the same fate.

First year of publication: 2005.
---
Journal Entry
2
by
Joanazinha
at
Buurtbieb AH Emiclaer in Amersfoort, Utrecht Netherlands on Thursday, March 04, 2021
Released 1 mo ago (3/4/2021 UTC) at Buurtbieb AH Emiclaer in Amersfoort, Utrecht Netherlands
WILD RELEASE NOTES:
Hello! I'm glad you found this book! If you are new to BookCrossing, welcome! Please leave a journal entry letting me know this book is safe with you. You may remain anonymous. The book is yours to do with what you want, but please consider releasing the book when you are finished with it so it may continue its journey. Thanks and enjoy!
---