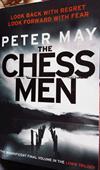 The Chessmen
2 journalers for this copy...
The third in the Lewis Trilogy.
Fin is back living on Lewis and is investigating the disappearance of game from an estate.
---
I was disappointed with this book. There's a whole backstory that wasn't even hinted at in the first two books. I found it a bit boring apart from the last quarter.
---
Sending as a surprise RABCK
---
Many, MANY thanks for your surprise RABCK box dolph1n. So, kind of you to take the initiative and post these books my way. Most appreciated! PETER MAY's LEWIS TRILOGY has been recommended to me by more than a few BookCrossers so how lovely to have an already registered, boxed set of BookCrossing volumes to read.

How delightful also that you sent me THE HEN OF THE BASKERVILLES book 15 of the whacky Meg Langslow series by DONNA ANDREWS. A ridiculously fun and light offering from Andrew's whimsical pen, I have been following this series in a haphazard way and now I have the hang of it I may read this out of sequence and pass it onto another reader who's been enjoying these with me. (You, no doubt, will easily be able to guess the name of this next BookCrossing reader.)

Oh, and this final volume of the trilogy also comes with an enchanting bookplate by JONATHAN WOLSTENHOLME aptly, for a bookcrossing book, titled "Going on a Journey". WOW!

---