Cagaster Vol. 1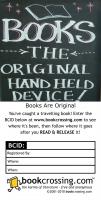 Registered by
GoryDetails
of
Nashua
,
New Hampshire
USA on 1/26/2021
This Book is Currently in the Wild!
3 journalers for this copy...
Journal Entry
1
by
GoryDetails
from
Nashua
,
New Hampshire
USA on Tuesday, January 26, 2021
I got this softcover at Barnes and Noble. It's been adapted as a
2020 anime series
under the title "Cagaster of an Insect Cage".
The premise: it's 2125, and a plague has caused one human in a thousand to suddenly transform into a giant insect-like being with bloodthirsty impulses towards other humans. Those bitten and not immediately killed will also become insects, and the escalating disaster has decimated the world's population. At this point there are a few enclaves where humans are thriving and even fighting back, but there are still huge expanses where the insects hold sway. Trained "exterminators" are used to guard travelers and trade caravans. One of them, Kidow, while guarding a friend on a foraging expedition among the wreckage of unsuccessful caravans, finds a dying man who asks him to deliver his daughter to her mother. Kidow agrees, and thus the story kicks off. The understandably-traumatized girl Ilie winds up working for a bar-owning friend of Kidow's, a transvestite with a bodybuilder's form and a heart of gold (though he does get testy when people disrespect his food or drink), while trying to find out where her mother might be.
Meanwhile, someone or something seems to be hunting down exterminators; it appears that when it became obvious that the plague made it advisable to terminate victims before they could turn, many of their loved ones were appalled, and some still hold grudges against the exterminators in general for "murdering" their loved ones. Or is there something else afoot?
Lots of plot elements in this first volume, including some wealthy traders who want to hire Kidow, a charming street kid who helps Ilie when she gets lost and falls foul of a local gang, and the tough girl who leads said gang and who's impressed by Ilie's guts. Oh, and the sinister cloaked figure who's luring exterminators to their doom...
---
Journal Entry
2
by
GoryDetails
at
Nashua, New Hampshire USA on Wednesday, February 10, 2021
---
---
A good introduction to the characters of the series. Some transitions seemed abrupt. Swarming, used to be human, killer bugs gives me the creepy-crawlies. But thankfully, there were not too many in this first volume. I'm sure that will change as the story line progresses. I'd still be interested to read more and see where the story takes us.
---
Journal Entry
5
by
Spatial
at
A BookCrosser, A Bookcrossing member -- Controlled Releases on Wednesday, April 07, 2021
Released 1 mo ago (4/7/2021 UTC) at A BookCrosser, A Bookcrossing member -- Controlled Releases
CONTROLLED RELEASE NOTES:
✩ ✩ ✩ ✩ ✩ ✩ ✩ ✩ ✩ ✩ ✩ ✩ ✩ ✩

Sent to hyphen8 as an extra gift along with the book chosen from the Asian Diaspora VBB!

✩ ✩ ✩ ✩ ✩ ✩ ✩ ✩ ✩ ✩ ✩ ✩ ✩ ✩
---
A bonus book that hitched a ride with a VBB book - very sneaky! Thanks for all the bonus goodies: I sort of love the pink octopus labels. :)
---
Well, that was something different. There was a whole lot going on, and I feel like I was just starting to get an idea of what was happening...and then it was the end of the volume.

I love the colors in the cover art, but I'm not sure I'd want to watch the anime: the giant bugs would freak me out!

Translation by Matthew Johnson.
---
Journal Entry
8
by
hyphen8
at
Da Shop by Bess Press in Honolulu, Hawaii USA on Tuesday, April 20, 2021
Released 2 wks ago (4/19/2021 UTC) at Da Shop by Bess Press in Honolulu, Hawaii USA
WILD RELEASE NOTES:
Monday, April 19, 2021: added to the little library outside Da Shop.
Guidelines for safely visiting and stocking Little Free Libraries here.
As a general rule, it never hurts to be cautious and sanitize your hands and frequently-touched surfaces.
Released for the
2021 NJABBIC challenge
(week 16: translations and multi-lingual books), GoryDetails's
April Showers/May Flowers challenge
, Davros-10's
2021 TV Challenge
, and Davros-10's
2021 Science Fiction Challenge
.
~ ~ ~ ~ ~
Thanks for finding this book! Won't you please make a journal entry and let its previous readers know how & where you found it? What do you think of it? What will you do with it when you're done?
This is now your book, and you may do as you please with it: keep it as long as you wish, share it with a friend, or leave it where someone else can find it!
Have you ever wondered where your books go after they leave your hands? Join BookCrossing and you'll be able to follow them as new readers make journal entries - sometimes from surprisingly far-flung locations.
BookCrossing: making the whole world a library!
---