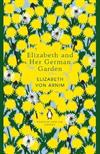 Elizabeth And Her German Garden
Registered by
Delphi_Reader
of
Δελφοί - Delphi
,
Fokida
Greece on 3/13/2021
3 journalers for this copy...
Journal Entry
1
by
Delphi_Reader
from
Δελφοί - Delphi
,
Fokida
Greece on Saturday, March 13, 2021

This book starts its journey with BookCrossing from Delphi, Greece
~~~~~~~~~~~~~~~~~~~~~~~~~~~~~~~~~~~~~~~~~~~~~~~~~~
<< ' "Oh, my dear, relations are like drugs, - useful sometimes, and even pleasant, if taken in small quantities and seldom, but dreadfully pernicious on the whole, and the truly wise avoid them" '
Taking respite from the Man of Wrath, her children and her stifling household, Elizabeth discovers that the path to joy lies in having a garden, rather than a room, of one's own. This enchanting semi-autobiographical novel delighted readers when it first appeared in 1898 and has never been out of print since.
The Penguin English Library - collectable general readers' editions of the best fiction in English, from the eighteenth century to the end of the Second World War. >>
~~~~~~To the person who found this book:~~~~~~
Welcome to BookCrossing.com, where we are trying to make the whole world a library!
If you have not already done so, please make a journal entry so we know this book has found a new home. Drop a few lines on where and how you found this book and what you thought of it. You don't need to join BookCrossing and you can remain completely anonymous. However, I encourage you to join so that you can follow this book's future travels. It's fun and free, and your personal information will never be shared or sold.
This book is now yours, and you can keep it if you choose, although I would love you to read and then share it. You can pass it on someone you know or release it once again in the wild, leaving it on a park bench, a phone booth, a hostel lobby...wherever you think it's suitable for the book to continue it's journey. If you pass it along, please make a release note to let others know where you left it.
I hope you enjoy the book!
---
Journal Entry
2
by
Delphi_Reader
at
Δελφοί - Delphi, Fokida Greece on Thursday, March 18, 2021

Married twice, having 2-3 long term relationships one of which with H.G. Wells and another one towards the end of her life with a man around 3 decades younger than her, frequently changing names - not only her titles and surnames due to marriage, but also her first name-, Elizabeth von Arnim must have really been very eccentric for her era! Been Katherine Mansfield's relative and often surrounded by literary types, she appears to be utterly bored by the never ending social gatherings of fellow noble people's wives, society balls, long relatives' visits and so on.
On 1898, when "Elizabeth And Her German Garden" was published, her 15 years' senior hurband whom she called "Man of Wrath", happened to face troubles with the law and was sent to jail and they separated. For years they were living in a manor house surrounded by large estate on Pomerania, in what was then German and now Polish land. This book seems to be based on her experiences at the time. It is written in a journal form and a large part focuses on the narrator's efforts to shape her garden and on the meaning and importance the garden has to her. She prefers to spend most time of the day in the garden, often with a book in hand, enjoying the beauty, solitute and serenity of the place and contemplate on various subjects.
Meanwhile the book touches on various other incidences and thoughts and observations, from the place of women at society and family to the German Law, from description of the neighboring farm's head female's lifestyle to the seasonal agricultural workers, from the potential ghosts' presence in the manor to the opinions of her three daughters' English governess about the role model of governess and parents - not always corresponding with the people having these identities, but been important to play the role non the less- , from descriptions of long visits of boring relatives and acquaintances to excursions to a beautiful spot on the Baltic coast, when the narrator organises excursions for her visitors - on winter for the people who she likes in order to appreciate the ambiance and scenery and on summer for people who she dislikes, so they get bitten alive by mosquitoes!
There are parts of this narrative that I enjoyed a lot and I found the witty observations of the author very clever and to the spot. Sometimes there is a spark and clarity on her thoughts that makes her seem as thinking out of the box of the stereotypes of her era. But often on other parts of the book she seems not to be able to escape exactly these prejudices and stereotypes. At some points of the book I couldn't decipher if the writting was ironical or literal, if she meant what she wrote or if she was satirising the concepts.
Furthermore, the books lacks a specific plot or theme. It was very popular especially at the first decades of the 20th century, but I found it somehow disjointed and irrelevant today.
I'm glad I read it, but I don't think it's something special that will stay with me for long...
---
Journal Entry
3
by
Delphi_Reader
at
to a bookwinner, A RABCK -- Controlled Releases on Thursday, April 01, 2021
Released 2 mos ago (4/1/2021 UTC) at to a bookwinner, A RABCK -- Controlled Releases
CONTROLLED RELEASE NOTES:
---
Journal Entry
4
by
Harobed82
at
Les Sables-d'Olonne, Pays de la Loire France on Sunday, April 11, 2021
Thank you for the cute little package you sent me! :)
---
Journal Entry
5
by
Harobed82
at
Les Sables-d'Olonne, Pays de la Loire France on Tuesday, May 11, 2021
I agree with the previous comment. It's an enjoyable book, no more no less.
---
Journal Entry
6
by
Harobed82
at
Libération contrôlée, -- By post or by hand/ in person -- France on Wednesday, May 12, 2021
Released 1 mo ago (5/12/2021 UTC) at Libération contrôlée, -- By post or by hand/ in person -- France
CONTROLLED RELEASE NOTES:
---
Thank you very much for the amazing package! You've made a wise choice with this book as my tbr pile is very high at the moment. I used to read on the train when commuting, but I work from home now and there's always something else to do.
---